The paintings that move me, both past and present, are not especially virtuosic or impressive, but the ones that have a kind of freshness and authenticity. I strive (a contradiction I know) to make this sort of painting myself, but rarely succeed.
At times I think I ought to be addressing loftier topics but really I just want a collection of beautiful interlocking shapes that I can hang colors on and work that relationship magic that is the joy of painters. I think making a painting is kind of like doing a puzzle, except you are inventing each piece. So why not make abstract paintings then? After a period of painting abstractly around 10 years ago I realized I really like the physical world and there are so many glorious things to paint in it: nature, landscapes, still lives, shadows, a slant of light… these days my paintings are about equal parts observation and invention. I might begin with something around me, or another image, then veer off or combine with other input. I want them to evoke the sensation of both known and unknown experience.
I work on about 4 or 5 paintings at a time and most of these go through several incarnations. They might be set aside for weeks, even months, then some get sanded back or glazed over. Having something already there to respond to is much easier than starting on a blank canvas. The best moments are when awkward meets graceful in a mutual partaking. This is however a rare and fortuitous thing which, when it happens, makes me turn up the volume and dance around the studio. I think somehow if I just keep showing up to slog through paint the law of averages means there may be more of these elusive moments.
The paper collages are a different story from the oil paintings. They are more playful, but also more cerebral, referencing art history, time, people, social costumes, and they require a kind of deliberate visual decision making and less mucking about with paint until something emerges. Both practices are important to me and I enjoy the contrast.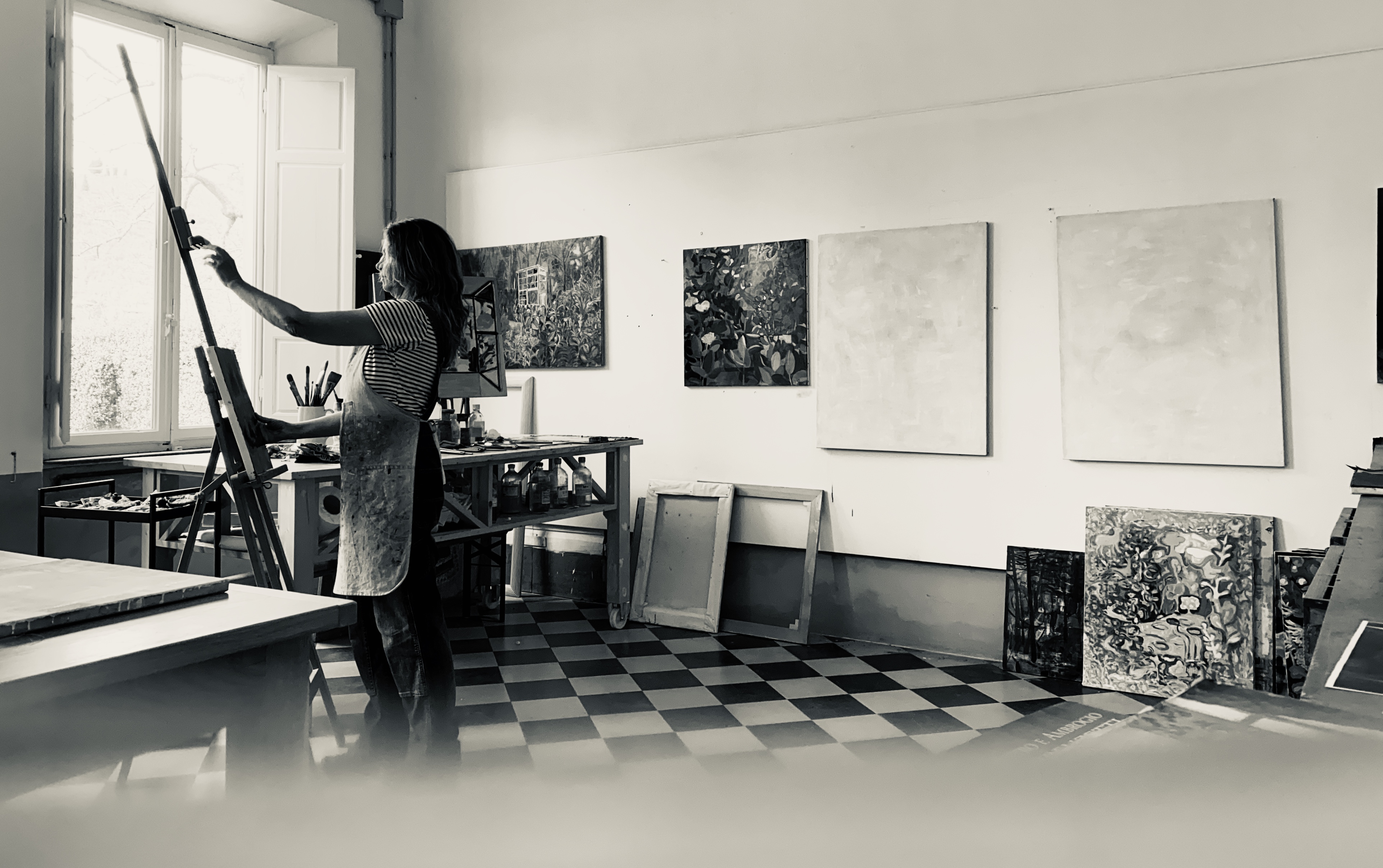 Bio
Heather McReynolds was born and raised in the USA. She studied Fine Art and Art History at Smith College and then went to Florence, Italy to study painting at the Accademia di Belle Arti. She has lived in Italy since 1985, except for a brief stint in London where she did an MFA in Painting at Central St Martins. Heather has taught art to students of all ages since 1994 and now teaches and hosts workshops at her studio near Pisa, Italy.
She has participated in numerous international artists residencies and has shown her work in galleries and group exhibitions in Europe and the United States.